Structural durability
The high rigidity on CLT panels provides significant robustness and wall elements that can be extended as brackets. The structural capabilities of decorative laminated wood panels are similar to those of concrete and can be used for similar applications.
Easy construction method
CLT systems are part of MMC technology due to the simple and fast construction process. The panels are mostly equipped with self-tapping screws made of wood and steel girders, which significantly speeds up the process compared to traditional building materials.
Due to the relatively positive tolerances of the panels made in the factory, sealing, ie. air tightness between the joints can be achieved with pre-compressed foam and / or a special tape that is glued over the external joints.
As they are crossed, laminated boards quickly provide a dry, material resistant to external conditions without temporary props. This provides an outer protective layer that acts as a shell that can quickly become waterproof.
Less weight in the overall structure allows for a more economical foundation design. The CLT panel construction is 6x lighter than the concrete construction with the same load-bearing capacity. Precise CNC cutting of the panel enables a high degree of accuracy.
One of the core materials in our building process is Siberian Larch. We love this special wood for its aesthetic beauty, durability and longevity, but it is not just stunning to look at! We use it because it is a sustainable resource – with its annual growth far
exceeding the annual felling-rate.
In addition, we use lightweight, but extremely strong, aluminum framing in our building system along with Cross Laminated Timber
panels that are highly efficient and exceptionally durable.
1 – CLT Panel ( Cross Laminated Timber) 100 mm
2 – Vapor Barrier 0.2mm 0.2mm
3 – Horizontal Substructure 200 x 80 mm
4 – Mineral wool 200 mm
5 – Vapor permeable foil 0,2 mm
6 – Vertical Substructure 30 x 50 mm
7 – Ventilating air layer 30mm
8 – Wood paneling 'Siberian Larch" 28 x90 mm
U = 0,170 W/m2K
Rt = 5,891 m2K/W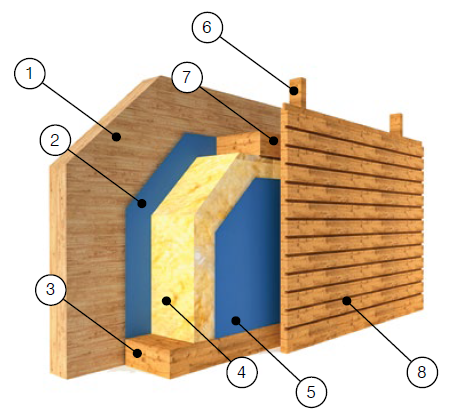 1 – Roof covering
2 – Vapor permeable foil 0.2 mm
3 – OSB Board 20 mm
4 – Substructure 30×50 mm
5 – OSB board 20 mm
6 – Construction 200 mm
7 – Mineral Wool 200 mm
8 – Steam dam 2 mm
9 – Mineral wool 100 mm
10 – Substructure
11 – GK plate
U= 0,138 W/m2K
Rt = 7,264 m2 K/W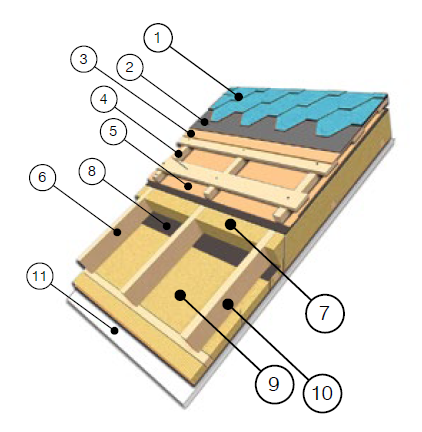 Our green roof feature is not just aesthetically more pleasing to the eye – as a plant growing medium it absorbs rainwater, provides insulation, creates a habitat for wildlife and helps to combat the 'heat island' effect.